Attn – Media, unwashed masses: Stop saying "cyber"
As the title says, please stop saying "cyber". It means nothing. More specifically, what it does mean is "blah blah networks and/or security". In the industry, this is so non-specific that it essentially means nothing anyways.
As a security engineer, I get pretty sick of seeing/hearing the term "cyber" thrown around to describe pretty much anything I do. Cyber security, cyber attack, cyber defense. Our team doesn't sit down in a conference room discussing "how are the cyber defenses on company X holding up?", or "company Y has been experiencing a higher number of cyber-threats recently". Nobody says crap like that in real life. I decided to see how little the term actually gets thrown around. I know we never use it verbally except while making "air quotes" with our fingers and making fun of the sorts of people who DO actually say it. But I thought I should at least check my email to see if it ever sneaks its way in unnoticed.
I have 9001 emails in my inbox from the last six months or so when I last hit the "I cant send email anymore because I have too much crap in my inbox" button. 102 matched the search term "cyber".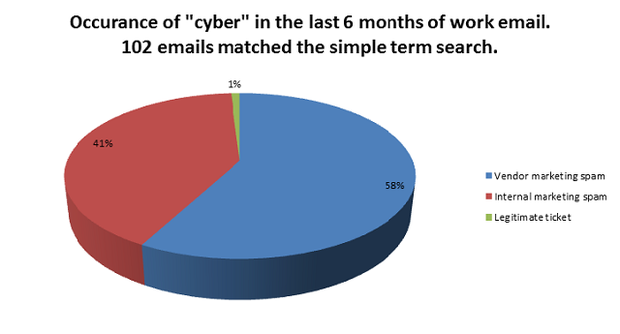 – A little more than half was vendor spam from companies I deal with, promoting new products, services, and whatnot else.
– A little less than half was internal emails from our global or pre-sales groups, discussing news or vendor spam.
– To my surprise there was in fact a single legitimate ticket email in the last 6 months with the term "cyber" in it.
I had to look into that one ticket to find out what the deal was. It was a ticket for a BlueCoat issue, and nowhere did the term cyber seem to appear. However there was a sysinfo attached (like a "show tech" for BlueCoat boxen), and tucked in there was a reference to a russian domain name containing the word "cyber". That's what had matched.
Close call, but in the end I was right. Nobody in my workplace actually uses the term "cyber" in referene to what goes on in the realm of network security.